Mapping Counties in 1880
The division of states and territories into counties has been remarkably stable in the 20th Century. In the 19th Century, however, especially as the population grew in frontier territories, new counties were established, and there were numerous name changes and boundary adjustments. The definitive source for information about historical county maps is the Atlas Project of the Newberry Library . The Atlas Project documents and maps every legal change to county boundaries from the seventeenth century to the present for every state. These maps can be viewed on-line, and they can also be downloaded as shapefiles. 
The Urban Transition HGIS relies on county maps made available through NHGIS. Population data for counties have been aggregated from the individual records of the 1880 Census disseminated by NAPP. In 1880 most of the country was included in the Census. The Dakotas and Indian Territory were not. In these areas there was a special enumeration by reservation, but it was not tabulated or transcribed, and therefore these Territories are excluded from our data files. Other missing counties are found elsewhere in the West. In these cases, to the best of our knowledge, the residents have been included in the returns for neighboring counties, so while there is a loss of geographic specificity the full population is accounted for.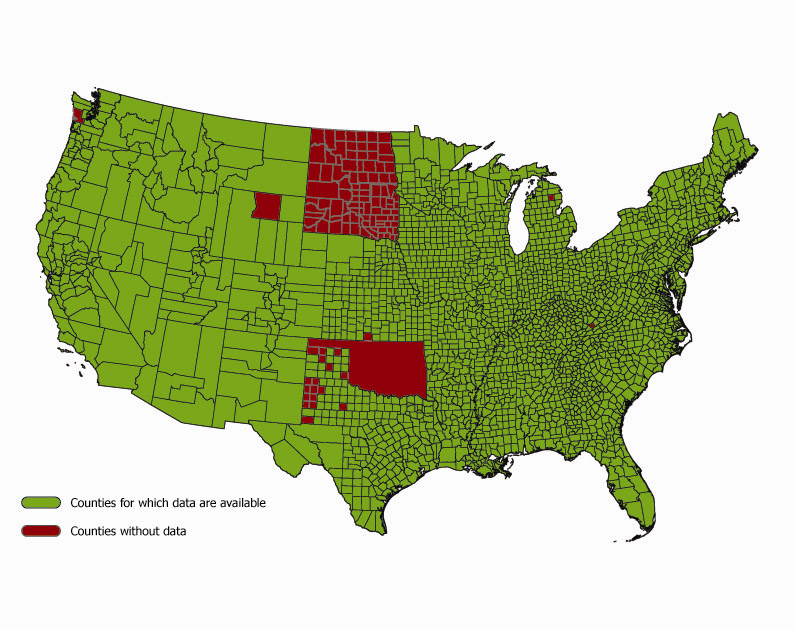 County map in 1880, showing areas without defined county boundaries and additional counties for which population information are not available.
NHGIS advises that a variable named GISJOIN can be used to link county shapefiles to population data downloaded from their website. Those users who wish to create their own specialized aggregate variables from NAPP data should use a different procedure, as follows.
Both the NHGIS shapefiles and NAPP microdata include codes for states and counties. In NHGIS these are ICPSRST and ICPSRCTY; in NAPP they are STATICUS and COUNTYUS. These can be combined into a single unique identifier: in each file, multiply state code by 10,000 and add the county code. The 20 counties in the Idaho and Wyoming Territories need to be handled separately, because the NHGIS shapefiles do not include ICPSRST and ICPSRCTY codes. But they are identifiable from other identification codes.
The resulting joined file has the following omissions, aside from the Territories noted above:
Texas:
Andrews
Bailey
Carson
Castro Cochran
Collingsworth
Dallam
Hale
Hockley
Lamb
Moore
Ochiltree
Parmer
Sherman
Stonewall
Terry
Yoakum

Virginia:
Dickenson
Washington Territory:
Chihallis
Wyoming Territory:
Johnson